---
---
Tax, Estate & Financial Planning
Taxes represent one of the most significant expenses that you will manage in your life.
For this reason, disorganized finances and poor planning can result in an extraordinary loss over time.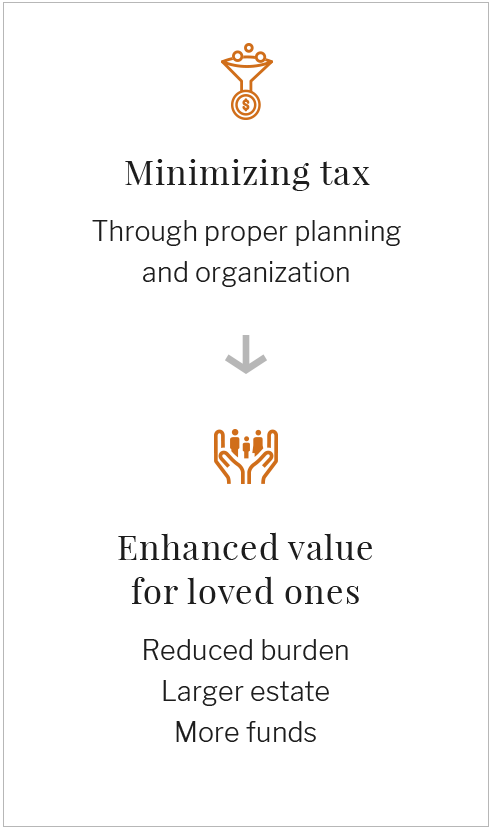 Reliable Financial Advice to prevent unwelcome surprises
Astute wealth management and tax planning, provided by a professional financial advisor, can help you to avoid paying above and beyond your obligations. Your independant financial advisor will help to organize and understand your particular situation so that nothing is overlooked or forgotten.
Understanding your finances and planning accordingly helps you to avoid overpaying on your taxes and adding unnecessary stress to your financial situation. At Smith Rogers, our goal is to help you mitigate the effects of any of life's unexpected surprises with detailed planning and preparation.
Protect your legacy; preserve your wealth
In addition to providing expert management for your day-to-day finances, the private wealth management advisors at Smith Rogers are also available to help you plan for the distribution of your estate. The time following the passing of a loved one is very stressful for family and friends. Struggling to resolve monetary commitments and dealing with financial uncertainty only adds to the burden.
Spending the time to work with an Estate Planner to determine how your estate will be passed on is an investment in the future. Once legal documents have been firmly established and signed you can enjoy your days in peace, secure in the knowledge that your wishes will be dutifully carried out.